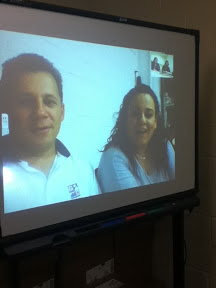 I have been working with Rhonda Nieto(Spanish Teacher) and Alicia Lewis the Secondary Level 2010 AATP Teacher of the year from our World Languages Department on a project to connect students from Blythewood High School to students in Cali, Colombia SA. We meet via Skype with Fabian Tejada and Carolina Cabezas to discuss some of the logistics of the program this past week.
The goal of the project is to work collaboratively on a global issue to allow students from both countries the opportunity to develop their language skills and to learn about each others cultures.
My role is to help with the logistics and the technology side of the project. We plan on using Skype, Google Chat, Mail and Facebook to communicate. I am really looking forward to the what lays ahead.
If any of you have worked on something like this and you have suggestions, or know of some issues we should be looking out for please let me know.
- Posted using BlogPress from my iPad